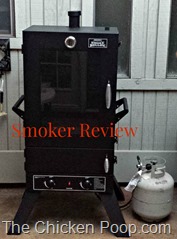 In my previous article I talked a little about my experience in the world of smoking meat and Turkeys in particular. Over the years I purchased various brands of smokers and types of smokers with varying degrees of success and failure.
Last week I purchased a "Smoke Hollow PS 4400" propane gas smoker from a club house store. The benefits of buying from these types of stores, is they tend to include a number of extras for no additional cost. The extra on this unit was a cover, normally priced at $44.00.
This is a big smoker. I could smoke 4- 15lb turkeys or 21 racks of ribs. Because of the size of this smoker I would suggest that if you are a beginner smoker or your plans for smoking are a couple of turkey legs a couple of times a year or maybe a whole chicken once in a while this may be too big for your needs.
Breakdown of the Smokers Components
Doors:
The model comes with two doors, one for the food and the other for the water pan and wood chip pans. This model I purchased also came with glass doors. If you can afford them they are well worth it. I like being able to see what is going on without opening the door and losing the heat. I can also check the water pan without losing the smoke in the main body. If you need to add water all you need to do is open the lower door and pull out the water pan to add more water.
This model does not come with door gaskets and every review I read talked about this. They said there was an issue of heat loss as well as smoke coming out around the door. Before I fired up the smoker the first time I applied thin bead of high temp gasket maker material. I left the door open for 24 hours to cure and haven't have any problems. The doors come with 3 adjustable door latches, two for the top door and one for the bottom. It gives a very secure fit.
Burners:
The 4400 comes with two burners. I am not sure why, because with one burner at medium I can reach 300 degrees. I smoke most of my meats at 235 degrees.
One possible use is this smoker comes with two fire chip pans and I suppose you could fill both pans with wood and when it is time to start the second round of smoke you would only need to turn off the first burner and start the second. Maybe an unintended benefit would be that there is a second burner if the first burner wears out.
Water and Fire pans:
Overall I am happy with the pans. The water pan holds approximately 1.25 gallons which gives about 4 hours cook time before refilling. The one suggestion I have is, when it is time to drain the pan, have a 5 gallon bucket close by. You can pour into it and then you don't need to carry the greasy water and risk spilling. Another suggestion is to triple layer with foil to make it easier to clean up as well as to protect the pans from developing holes.
The fire pans are of a good size to hold a large amount of wood. The downside of how this unit is designed is that only the center 1/4 to 1/3 of the wood is used up. The outer perimeter creates charred wood. I don't think it has a big overall effect but I do like to use up material.
Measurements:
The overall measurements are 44″ x24″ x16″. It is tall enough too comfortably to add or remove food items. The handles are at a good height to make it easy for two people to carry. It is not very heavy so it is easy to move short distances.
Legs:
The legs create a wide enough footprint to give it stability, but as with the rest of the construction the legs are made with light weight steel and it will not take a lot of rough handling i.e. in the back of a pickup off road.
Racks:
This smoker comes with 5 racks: two regular, two jerky racks, and one rib rack that will hold 7 racks of ribs or it can be turned over and used as a regular rack. If you are going to use the jerky racks for something other than jerky I would suggest a sheet a foil to prevent sticking to the racks because it is a pain to clean the racks.
Temperature Gauge:
I was pleasantly surprised at how accurate the temperature gauge was. In a side by side comparison with a digital probe it was only off by 5 degrees. I did find that the unit was 15 degrees cooler at the bottom of the cabinet. This is good to know so I can put smaller items at the bottom.
Drip Pan:
The smoker comes with a drip pan although it didn't catch any drips. There is a large vent hole on the bottom that the pan does not cover and this is where the grease dripped out. I solved the problem by putting an old tray under the smoker and solved the problem.