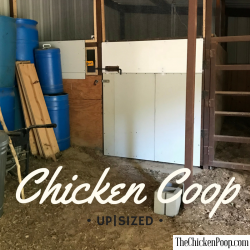 The coop is inside the barn/stable.  We do not plan on ever having horses, so we use the barn for storage.  It also seemed like the perfect place for the girls to be safe and warm.  So the run is built right outside of the barn with an automatic door leading out.
Nesting Boxes
We are planning on about a dozen chickens, so I built 6 nesting boxes (in case we get more).  Probably way too many, but its easier to build them all at once then to add more later.  It is a simple wood build using materials that I had on hand.
Roosting Bar
I built the roosting bars out of 2 x 4  wood.  The girls will sit on  4 inch wood so their feet will be flat and covered from below. This keeps their feet warm.  I built the roosting bar on a hinge so I can lift it up to clean.  Under the roost I built a poop hammock that I can remove and take out to clean.
The Floor
The floor was covered in wood shavings, but that is so dusty, I will remove that and cover it with sand.  This removes that dust and makes it easy to clean up with a kitty scoop.
Hope you enjoy the tour